| | |
| --- | --- |
| | My Shack |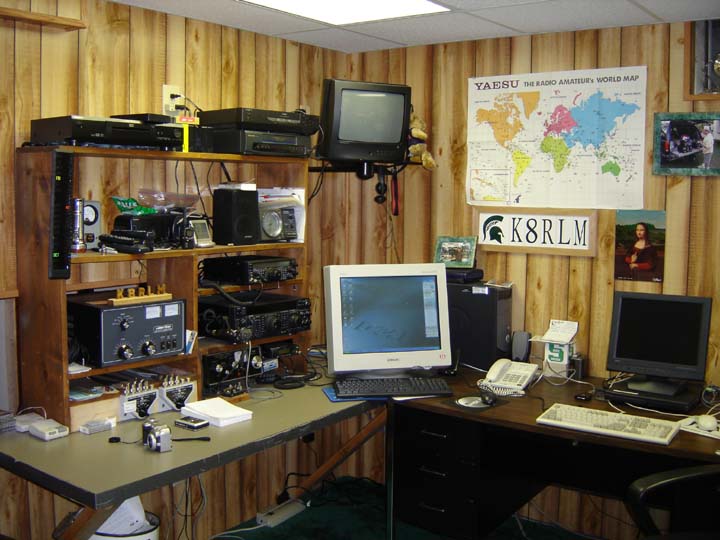 After becoming an Amateur Radio operator in Aug of 2000, (Original call sign of KC8PIJ) an operating station needed to be constructed. The shack as seen above was designed and constructed with the help of Bil "W8EB" who was mostly responsible for my involvement into this hobby. Well maybe not mostly. Hi hi. My "XYL" played a huge part since she decided that I needed a hobby and Bil was happy to oblige in her request.
Since that time my "XYL" has received her Amateur Radio License (W9MSU) [General] and my daughter Kelly (K9MSU). Yes Michigan State University plays an important role in our lives.
Here's the brag sheet for the equipment at K8RLM's QTH.

YAESU FT DX 3000 (Not Pictured)YAESU FT DX 1200 )Not Pictured.
YAESU FT- 857 Backup Radio (Used as the primary from my RV).
YAESU FT-847. (Used as the backup at the Portable Shack location in Manistee.
YEASU FT 1000 MP Primary Radio from my portable shack in my cabin in Manistee MI.
YEASU FT 1000 MP Primary Radio from my portable shack from my Winter home in Sebring FL.
YEASU FT-100D used in my Truck.
Ameritron 8110-H Amplifier

Antenna System:
Hightower Virtical 160 - 6 meters.
Cushcraft 40-Meter Rotatable Dipole.
Home Brew 40-Meter Double Bazooka.
2 Diamond (6M/2M/70CM Triband Base Antenna).
Carolina Windom supported by 3 large Oak Trees at the Manistee Location.
Home Brew 40-Meter Double Bazooka at my Manistee Location.
QAP 40/20-Meter Vertical at my Florida Location.
You can find me on the air during the summer mounts operating from my 5th Wheel while on the many camping trips. While camping I utilize my FT-857 with a Hustler BT5-TV antenna. This configuration has performed very well in the many remote locations we've visited.
The design concept of the shack allows for easier access to the radio and computer connections. The wiring closet provides easy access without disturbing all the equipment. I'm not quite sure why you'd need this type of access since this is a "wireless hobby" Hi hi.
On Monday - Friday you can find me on the North Cars Road and Information Service Net on 7.197 from 8:00 AM to 9:30 AM Eastern Time from any of my locations. Look forward to seeing you there.
.